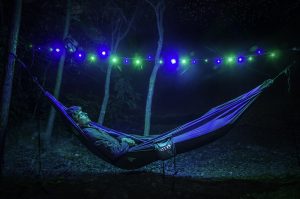 Western North Carolina has been ahead of the curve when it comes to hammocks, most likely thanks to ENO's headquarters being located in Asheville. You've probably got friends who leave their hammock up year round on their porch or backyard. You've most likely experienced the frustration of losing out on the last available tree at an open field music festival. If you're a personal hammock owner, you may have already ditched the tent for a hammock. Lots of people are doing the same thing.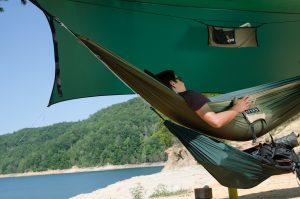 Hammock camping isn't about roughing it or sacrificing comfort for the sake of a lighter load, though that's a bonus. It's about increased comfort, easier setup and takedown, and an enjoyable time. If you haven't been in a hammock in awhile, you'll be surprised by how comfortable they are these days. Gone are the pinching cords of rope and uneven hang. Today's hammocks are made of breathable nylon. ENO's hammocks also utilize a "tree saver" suspension system (no nails or hooks) so you leave less of a footprint in the great outdoors. Hammocks generally offer all the features of a tent including gear lofts and privacy tarps for changing your clothes while standing (take that, tent!).
Sleeping pads and other camping comforts have come a long way, but can be a pricey investment for a family or someone just getting started. This usually leads to a choice based on budget and a feeling of coming home happy, but exhausted, and saying, "I can't wait to sleep in my own bed." When you climb into your hammock after a day in the woods, you'll find support for your entire body – from head to toe and from side to side. You'll go to sleep with a smile on your face and wake up feeling recharged and energized. Instead of feeling like you need to get out of your tent as quickly as possible in the morning to experience being outside, you're already there!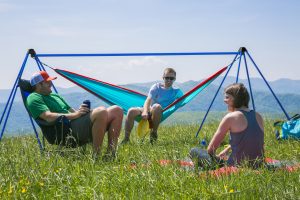 In addition to the added support, you won't have to worry about a stray rock under your tent or searching for completely level ground. You can camp on a hill or in the rain or snow. Accessories like bug nets and rain tarps are commonplace and take less time to set up than tents. ENO has just released the Nomad hammock stand, a portable shock-cord stand that supports up to 300 lbs.
As with any outdoor gear, it's all a question of how committed you are to investing in the gear you need to be comfortable. With hammock camping – just like tent camping – it's easy to get all the basics you need at an affordable price. You can always invest in additional gear and four-season options.
If you find hammock camping isn't for you, you'll still have an incredible piece of functional and comfortable gear added to your outdoor arsenal.
https://diamondbrandoutdoors.com/wp-content/uploads/2017/02/171A36302.jpg
2640
3960
Diamond Brand Outdoors
/wp-content/uploads/2017/09/diamond-brand-outdoors.png
Diamond Brand Outdoors
2017-02-24 20:23:59
2017-11-27 15:19:41
Hammock Camping