We're excited to announce our support of Asheville GreenWorks' Youth Environmental Leadership Program (YELP) with a grant for $6,000 through a partnership with Columbia Sportswear and Grassroots Outdoor Alliance. Connecting teens with their local environment ensures the next generation in our community is active, engaged, and productive. It also reinforces the role of mountains, streams, and trails as accessible to all.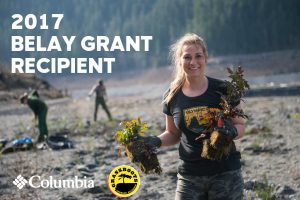 An award ceremony will take place on March 18 at noon during Campapalooza at our flagship store on 1378 Hendersonville Road in Asheville. We'll also present awards to three other nonprofit organizations providing high-quality outdoor experiences for local youth.
YELP engages young adults ages 16-19 living in low-income neighborhoods in work experiences that emphasize the importance of caring for our natural environment. Through partnerships with the National Park Service and the US Forest Service, interns work alongside rangers and research scientists on issues such as climate change, reforestation, and wildlife conservation in our national parks and forests. The paid interns take several trips to national parks and forests during their internship to conduct research and learn more about the natural environment firsthand.
Additionally, interns receive leadership training through community outreach, service projects and public speaking. Last year, Asheville GreenWorks also added a focus on riparian zone restoration through invasive species removal, live staking, and storm water management. Knowledge and skills gained are unique and beneficial for school and resume building.
YELP interns also complete a 15-hour "externship" with environmental professionals from local partner organizations and businesses, learning alongside local conservation leaders while building employability skills and exploring potential career opportunities in environmental sustainability.
Diamond Brand Outdoors sponsored Asheville GreenWorks and provides additional funds as part of the Belay Grant Program. Columbia and the Grassroots Outdoor Alliance award annual grants to support local conservation and outdoor education projects across the country. Since 2012, this program has provided over $500,000 in funding and product support to projects across the U.S. nominated by Grassroots retail members.
"We're proud to support local outdoor conservation and education projects through the Belay Grant Program," said Scott Welch, Global Corporate Relations Manager at Columbia Sportswear Company. "Collaborating with the Grassroots Outdoor Alliance and Diamond Brand Outdoors allows us to identify projects and organizations that best serve the community."
In addition to sponsorship funds, the grant includes tools, planting materials, a kayak and supplies, and innovative outdoor products from Columbia including quick drying shorts or pants, boots or water shoes, and wicking socks or sun hat.
https://diamondbrandoutdoors.com/wp-content/uploads/2017/03/2017-Belay-Grant-Social-Announcement-3.jpg
818
768
Diamond Brand Outdoors
/wp-content/uploads/2017/09/diamond-brand-outdoors.png
Diamond Brand Outdoors
2017-03-02 15:16:43
2017-03-06 09:09:23
Asheville GreenWorks Receives Columbia/Grassroots Belay Grant