There's no day of the year that people are quite as optimistic as January 1st. New Year's Day makes you feel like you can eat healthy, lose 50 lbs, wake up early, quit smoking, cut down on TV, save money, and travel the world. But the truth is that by February 1st, most of us have already abandoned our big plans. But it is possible to make your New Year's Resolution a success with two easy steps. 1- Pick a worthwhile goal. If you're convinced that what you want to do is truly important, you're much more likely to stick with it. 2 – Have a concrete plan. Most resolutions are large goals that require a lot of small steps to accomplish. Knowing the intermediate goals you need to hit on the way makes it easier to see forward progress and keep going.
In the spirit of accountability, we're sharing 3 of our crew's resolutions and practical ways to reach these goals. And since there's nothing like new gear to get you excited about a goal, we've also included our product picks to get you there.
Resolution # 1 – Get Outdoors More
Why it's worthwhile – After a full day of work and adulting, there aren't a whole lot of daytime hours left – especially this time of year. That makes it pretty easy to go an entire day without spending any meaningful time outdoors. And, no, walking from your car to the office doesn't count. Time outdoors can provide a host of benefits for your physical and mental health. It can reduce anxiety and depression, fight fatigue (hello, vitamin D), and is an easy way to squeeze in some exercise.
How to do it – Face it, if you head home and get comfy, the chances of leaving again are slim. Prevent being sucked into the couch vortex with a little preparation. Keep outdoor essentials, like a water bottle, snacks, and a small daypack, in your car so you can be ready when the mood for adventure strikes. It's also a great idea to invest in outdoor apparel and footwear that can also be used as workwear. Our double duty favorites include sleek hiking pants, low profile hiking shoes, and moisture wicking shirts, that still look stylish. These essentials will have you ready for a lunchtime walk or a pre or post work hike.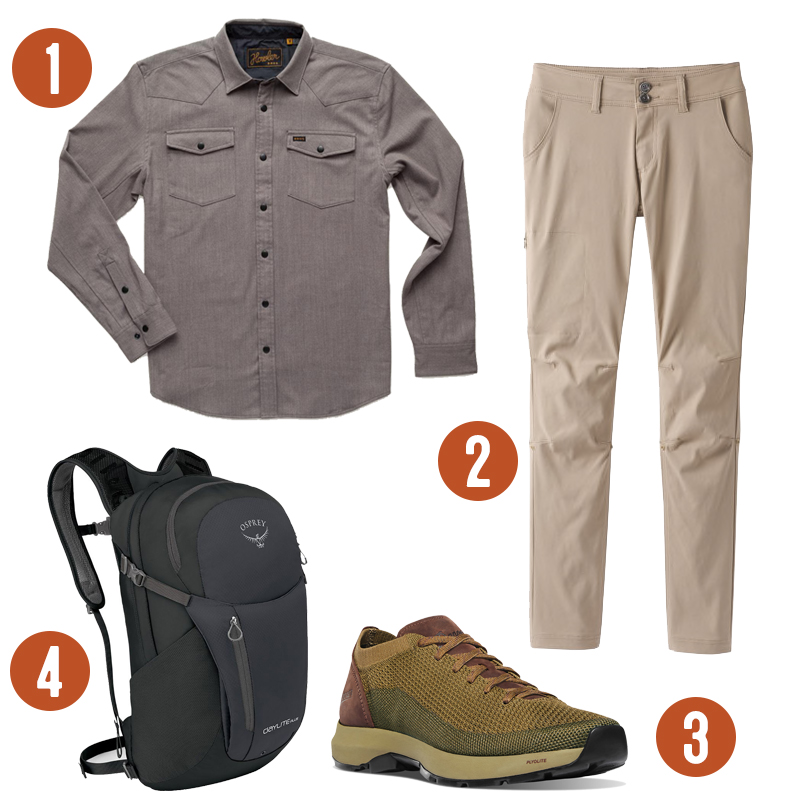 Howler Bros Stockman Stretch Shirt – $89.00 – This good looking shirt is refined enough for the office, but is made of a stretchy moisture wicking fabric for on-the-trail comfort.
Prana Halle Straight – $89.00 – At first glance these look like work appropriate khakis, but put them on and you'll want to replace all of your pants. They feature Prana's legendary Stretch Zion fabric for mobility, are Scotchgard treated to hide lunchtime spills, and have real functional pockets – a rarity in women's pants.
Danner Caprine Low – $140.00 – The sleek design and muted color palate of these low cut hikers makes them appropriate for most workplaces. They are also really supportive, grippy, and feature waterproof construction – perfect for squeezing in a quick post-work hike.
Osprey Daylite Plus – $65.00 – This simple low profile daypack can do it all. It has room for a hydration bladder and a laptop sleeve, and Osprey's bombproof construction means it'll last you for years.
Resolution #2 – Choose Ethical Products
Why it's worthwhile – From paper towels to takeout containers, our daily lives are chock full of single use products. And with the pace of modern life, it's nearly impossible to avoid them all. On top of  that, we're surrounded by an abundance of low quality items that come with a cheap price tag but a huge human cost. Reshaping all aspects of your consumption can be daunting, but a few simple choices can majorly reduce your impact.
How to do it – The most successful goals are reasonable and measurable. Pick a couple of areas of your life where you can reduce your waste. Do you typically grab lunch on the go? Take a few minutes to eat inside instead – you'll avoid using a takeout container and probably enjoy your meal a lot more. Are beverages your Achilles Heel? Keeping a water bottle, reusable straw, and reusable pint glass (try a Silipint) in your car is an easy way to be prepared for any hydration scenario. Addicted to fast fashion? Instead of giving into the temptation of buying a dozen cheap shirts, resolve to buy two or three well made items. You'll reduce your waste and probably enjoy wearing them more. As a bonus, your closet will be waaaaaay easier to keep organized.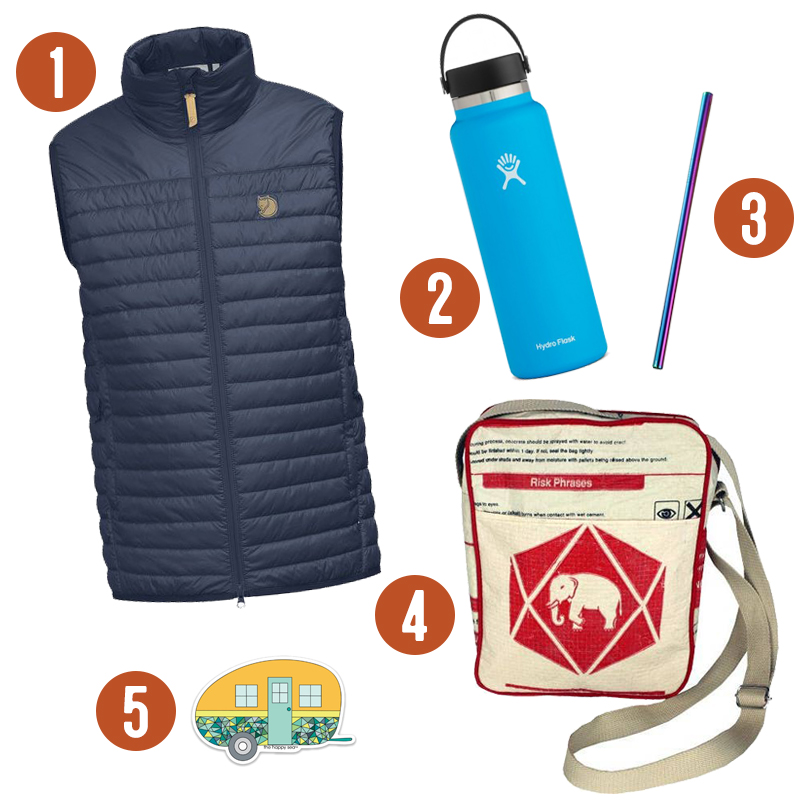 Fjallraven Abisko Vest – $150.00 – This lightweight vest is just right for WNC, and is durably constructed so that it will last for years. Fjallraven sources sustainable materials and is on track to be carbon neutral by 2025.
Hydroflask 40 oz Widemouth – $49.95 – Bringing your own bottle is one of the easiest ways to cut down on single use plastics. We love this bottle because it can keep ice all day long and holds enough water to satisfy even the most committed of water guzzlers. Plus, Hydroflask uses their profits to support Parks for All, an organization that maintains and develops public green spaces.
Shelly Cove Metal Straw – $3.00 – If you've gotta have a straw, there's no excuse to not BYO. These steel straws are inexpensive and easy to keep in a purse or pocket. Profits from their sales also go to non-profits that are working to save sea turtles.
Malia Designs Diamond Elephant Bag – $38.00 – If the cute elephant design isn't enough to get you on board with this bag, the story will. Malia designs makes bags in Cambodia using repurposed cement bags. This keeps materials out of our landfills and provides fair wage employment to at risk individuals in Cambodia.
The Happy Sea Camper Sticker – $3.oo – These awesome hand drawn stickers are the perfect way to zhuzh up your water bottle. For each sticker sold, The Happy Sea donates a portion of the proceeds to organizations that are working to protect our oceans.
Resolution #3 – Explore New Cultures
Why it's worth it – It's easy to get into the rut of going on the same vacation every year, but experiencing different cultures is a truly enriching experience. Understanding how people live in other parts of the world and learning about their history is a great way to broaden your understanding. Travel is also a humbling experience that can make you more empathetic. If you have children, it's an excellent way to expand their world view, and give them a boost in geography and world history.
How to do it – Budgeting for international travel can seem like a tall order, but there are plenty of ways to make it more affordable. These 3 tips for traveling frugally are a  great place to start. It's also a great idea to start small. New cultures don't necessarily have to be abroad. Try traveling to a part of the country you've never been to before, and resolve to experience it like a local. Make sure to leave some unscheduled time to wander and get a feel for the area. Try to converse with as many locals as possible, they'll probably be happy to share some of their favorite spots to explore.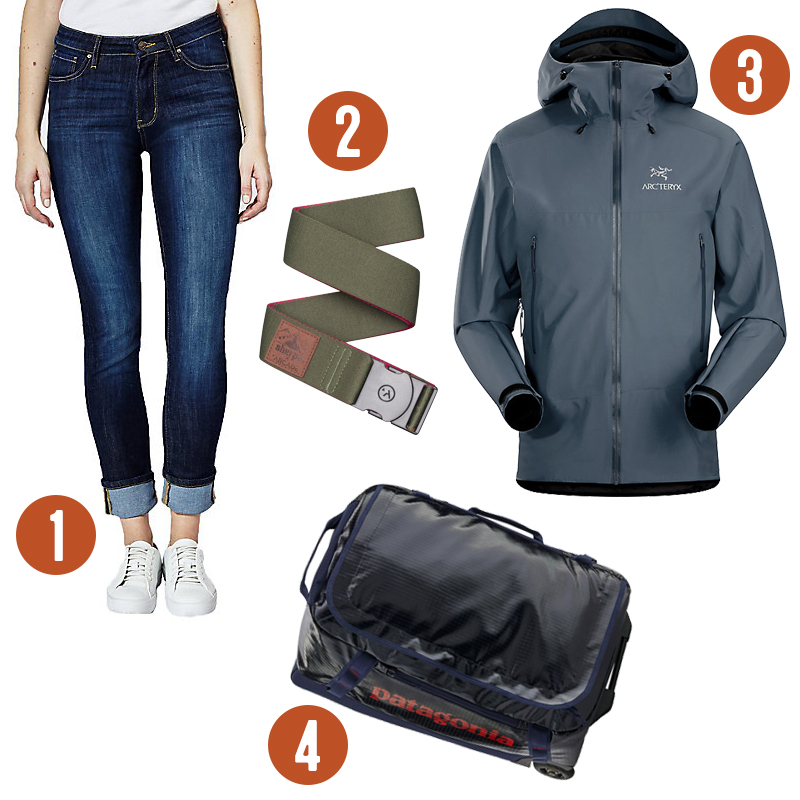 Dish Straight & Narrow Jeans – $119.00 – All the style of a classic pair of jeans in a travel friendly fabric. These adaptive denim jeans are beyond stretchy, really soft, and comfortable enough to nap in during your layover.
Arcade x Sherpa Rambler Belt – $29.00 – Arcade belts are a traveler's best friend. They feature a flat buckle that layers well under anything and are super stretchy for all day comfort. Most of their designs are also metal free, so you won't have to remove them in security. We love the Arcade x Sherpa edition because each purchase sends 4 Nepali children to school for a year.
Arc'teryx Beta SL Hybrid Rainshell – $399.00 – The trick to traveling light is having items that can multitask. This breathable shell is both wind and waterproof, so it makes a great lightweight jacket for any weather. It can also be layered over a fleece or light insulated jacket for winter weather versatility.
Patagonia Black Hole 40L Wheeled Duffel – $299.00 –  Going carry-on only is a great way to cut down on travel stress. It eliminates the worry of lost baggage and makes walking and public transit a whole lot easier. This tough Patagonia duffel features a simple efficient design for max capacity. The weather resistant material makes sure everything arrives at your destination dry.
https://diamondbrandoutdoors.com/wp-content/uploads/2019/12/E5A9971.jpg
4480
6720
Diamond Brand Outdoors
/wp-content/uploads/2017/09/diamond-brand-outdoors.png
Diamond Brand Outdoors
2019-12-31 11:12:10
2019-12-31 11:12:10
Your New Year's Resolution Guide