Asheville continues to rank high on travel lists for outstanding food, beer, and popular outdoor activities such as hiking and biking, but hidden behind all of the hype are some of the best disc golf courses in the North Carolina. The goal of disc golf is the same as traditional golf: get the disc from the tee to the hole in the fewest strokes possible; however, instead of clubs, balls, and a decent chunk of cash, all you need is your arm and a disc to have a good time. Check out this list of the Asheville area's top disc golf courses, all within a half hour drive or less.
Western North Carolina's subtropical climate and moderate seasonality, these courses are accessible during most of the year. Barren trees may allow a better view of cages in the winter, but make sure you're always prepared for the trail with the proper footwear. Stop by any Diamond Brand Outdoors location for a large selection of KEEN hiking shoes, boots, and sandals to ensure your time on the course is as enjoyable as possible.
Richmond Hill Disc Golf Course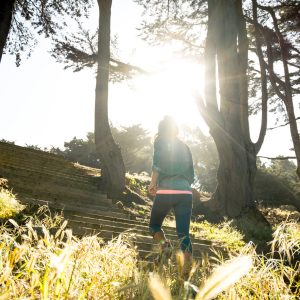 Richmond Hill Disc Golf Course is an 18-hole course working its way throughRichmond Hill Park just north of downtown Asheville. The course is hilly, densely wooded (the club logo has a poison ivy border), and boasts one set of tee pads with multiple basket placements. The closet course to downtown, Richmond Hill is preserved by a dedicated community of golfers.
280 Richmond Hill Dr, Asheville, NC 28806
Black Mountain Disc Golf Course
Black Mountain Disc Golf Course is an 18-hole course just outside of this beautiful mountain village in Veterans Park. The course features relatively short, yet really fun holes that wind their way through moderate hills with scattered trees. The local community of dedicated disc golfers includes John Garcia, the owner of nearby Lookout Brewing Company.
10 Veterans Park Dr, Black Mountain, NC 28711
Waynesville Disc Golf Course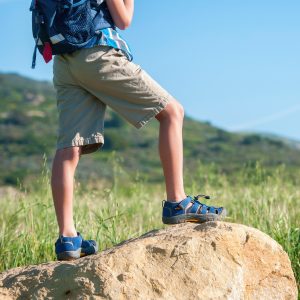 Waynesville Disc Golf Course sits just outside of downtown at the Waynesville Recreation Center. For the most part, it's a wide open course comprised of long tee throws and beautiful views of the nearby mountains. A course map can be found in the recreation center office and main kiosk.
550 Vance St, Waynesville, NC 28786
Jackson Park Disc Golf Course
Just south of Asheville, one of the newest courses in the region is located near downtown Hendersonville in Jackson Park. The course offers the widest variety in WNC with open, partially wooded, and densely wooded holes on moderate to steep hills. Multiple concrete tee pads, short and deep basket positions, and beautiful locust benches on every hole make this course a real gem.
801 Glover St, Hendersonville, NC 28792
Lake Julian Disc Golf Course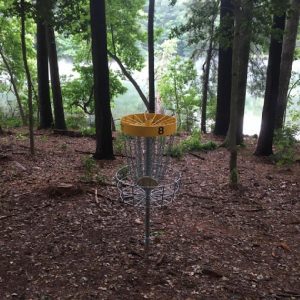 Lake Julian Disc Golf Course lies along the shores of South Asheville's Lake Julian and now hosts a full 18-hole course following its August 2017 expansion (which included new concrete tee pads). This course is relatively flat compared to the other courses in the area and has everything from water-front holes to holes that weave their way through the dense woods (watch out for poison oak and poison ivy).
406 Overlook Road Ext, Arden, NC 28704
UNCA Disc Golf Course
UNC Asheville has established a 6-hole disc golf course for both students and the community to test out. The course is primarily hilly and wooded with a few holes in the open. Due to the course's location on UNCA's property and its limited holes, it is very accessible and it doesn't take too much time to walk!
2500 University Heights, Asheville, NC 28804
Sandhill Nature Trail Disc Golf Course
Sandhill Disc Golf Course is part of Buncombe County Sports Park and hosts a full 18-holes that make their way through a hilly and wooded area. This course is not far from downtown and incredibly accessible due to Buncombe County Sports Park's parking and facilities. However, remember to throw wisely because this park hosts a lot of other facility users.
58 Apac Dr, Candler, NC 28715
Featured images provided by KEEN, Official Sponsor of Your Next Adventure.
Lake Julian image courtesy of The Night Canopy. Special thanks to Justin Menickelli.
https://diamondbrandoutdoors.com/wp-content/uploads/2017/11/What-does-disc-golf-chili-and-non-perishable-food-have-in-common-More-than-you-think-Follow-the-link.jpg
359
640
Diamond Brand Outdoors
/wp-content/uploads/2017/09/diamond-brand-outdoors.png
Diamond Brand Outdoors
2017-11-28 15:50:03
2017-12-23 11:12:53
7 Great Disc Golf Courses Near Asheville