Summer's arrived in western North Carolina and a very wet spring means mountain rivers and streams are higher and faster than they were last year. While that's a welcome change, the longer days and higher temperatures of July and August bring challenges for anglers.
Warmer water and bright sunshine drive fish into deeper cover, making for a longer and hotter day on the water. That's what makes this a great time to explore evening-into-the night fishing! A kayak is the perfect vessel for taking advantage of this opportunity as it's more mobile than standing on the shore and bounces off rocks much better than a fiberglass hull. You'll also find just about as many fish biting as an early morning outing.
Night fishing isn't for everyone and introduces new elements of risk such as loss of visual cues and predators that like to hunt in the darkness. It can be a welcome change for those with busy schedules and allows a fresh perspective on trips you may have taken dozens of time under the sun. Before you head into the night, take these tips into consideration.
Plan Ahead
When picking your night spots, stick to familiar areas. Any body of water will look brand new at night, even if you've paddled it many times before. Make note of landmarks and bring a buddy, if possible. Two anglers can cover more water and watch out for each other.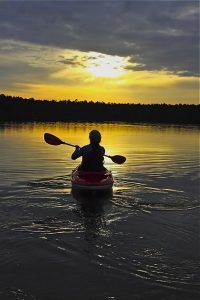 Grab the Right Gear
You'll need a few basic tools, most of which you already have. Essentials include a PFD, a GPS to steer clear of rocks and pinpoint fishy water, a radio to communicate with fishing partners in case you get separated, highly reflective flag, and a good light. Light will keep you visible to other anglers, recreational paddlers, and boaters. A 360-degree light elevated from the deck of your kayak, headlamp, and floating flashlight are all good recommendations. A hand-crank flashlight or lantern isn't a bad idea, either. You should always wear a PFD when you're on the water, but going without isn't even an option for night excursions. Even if you don't plan to be out after sunset, prepare for it.
Turn on Your Lights Before It Gets Dark
Always check your gear before getting on the water to make sure it's charged. Turning on your lights early means less scrambling as the sun goes down and less chance of finding yourself night swimming instead of night paddling!
Have Fun!
The best fishing usually occurs at least an hour after the sun goes down, so don't get discouraged if you find it dying down. The fish will be biting again soon! Of course, this advice can only go so far. You've got to get on the water and try yourself.
Be sure to check local regulations about operating watercraft between dusk and dawn as they vary across the region.
https://diamondbrandoutdoors.com/wp-content/uploads/2017/06/DSC_0145.jpg
2592
3872
Diamond Brand Outdoors
/wp-content/uploads/2017/09/diamond-brand-outdoors.png
Diamond Brand Outdoors
2017-06-19 09:53:09
2017-09-28 09:49:25
4 Tips for Fishing in the Dark