Many of us got into kayak fishing because of its affordability, ease of entry, and overall simplicity. It's also an eco-friendly way to have fun and get exercise. With the addition of pedal drives becoming more prevalent, choosing your next kayak is more complicated than it used to be. However, the innovation in design provides anglers with a better selection if they know what they're looking for.
Pedal drives look like bike pedals and provide a lot of water propulsion and speed, welcome allies on a lake, river, or stream. You might remember paddleboats from family vacations at state parks. Kayaks have been incorporating a similar technology for the last 20 years for anglers and recreational paddlers. However, pedal drives really came into their own when Native Watercraft introduced their version with the Propel in 2008.
The Propel uses rotational pedals combined with a propeller rather than push pedals with fins. Pedal kayaks come with a higher price tag, one that might not be worth it to everyone. So, should you go with a pedal or a paddle when kayak fishing?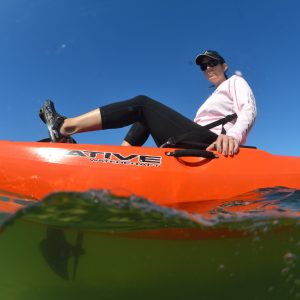 Pedal Drive Kayaks
Pros
Speed – If getting to your honey hole quickly on the weekend or after work is important, you'll be able to cut across a lot more distance in less time than paddling.
Hands-Free Control – Managing the position of your kayak is one of the most difficult parts of fishing from a kayak. Pedal systems give an insane amount of control with your legs and one handed steering leaves a hand free at all times. You're also using your legs, saving arm strength for fishing.
Cons
Underwater Clearance – This isn't as much of an issue with larger bodies of water like lakes, but mountain rivers like the French Broad change depth quickly and often. If you're familiar with your path, you can flip your fins or pull your drive up.
Cargo Space – The center deck of your kayak will be basically disappear, though many models have found new spaces to stash what you need for a day on the water.
Paddling Kayaks
Pros
Tradition – Paddling means less steps to get your boat on the water, less maintenance, and a general sense of simplicity. A pedal may also be less disruptive than a propeller, which is a major plus for kayak fishing over motorize boats in the first place.
Affordability – Pedal kayaks start around $2,000, while a traditional kayak starts closer to $500. A pedal system is probably something most anglers will invest in after spending at least a couple of seasons with the sport.
Paddle Cons
The Paddle – Juggling your fishing gear and your paddle is tricky, especially on a windy day or in a strong current. You'll sacrifice full kayak control for your rod and reel and tire your arms quicker.
Speed – This might not be much of a factor if you're already fishing with a traditional kayak. However, if you're an angler short on time, you'll spend more time getting to your destination with a paddle.
Like other kayak equipment, the decision to peddle or paddle is connected to your style and preference. You can't go wrong either way, as they're both more affordable and healthier alternatives to motor-powered boats. They also both offer access to water otherwise off-limits to powerboats.
If you're ready to give kayak fishing a spin, Diamond Brand Outdoors on 1378 Hendersonville Road in Asheville rents pedal and paddle kayaks for just $25 per day.
https://diamondbrandoutdoors.com/wp-content/uploads/2017/04/Patagonia-Big-Fish-Square.jpg
1650
1650
Diamond Brand Outdoors
/wp-content/uploads/2017/09/diamond-brand-outdoors.png
Diamond Brand Outdoors
2017-04-12 12:41:10
2017-04-13 10:14:11
Kayak Fishing: Paddle vs. Pedal