Not too long ago women who loved the outdoors had to make do with (often ill-fitting) unisex gear. Now, women's specific gear is one of the fastest growing segments in the outdoor gear industry. Just about any piece of gear that you can imagine is now available in a women's specific version. While we're thrilled with this variety, it raises a common question: does it really matter if my gear is designed specifically for women or not? The answer is far from simple and depends on a variety of factors including your build, personal preferences, and the type of gear. To help you sort through the hype and find the essentials, we've tested several of this season's women's specific gear offerings. Today's project: PFDs, specifically the Astral Layla.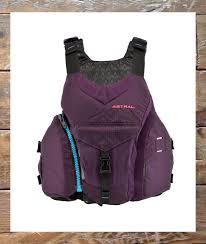 Let me start out by saying that Astral makes some of the best PFDs for women on the market. While many "women's" gear manufacturers start with a men's product and take a "pink it and shrink it" approach to women's design, Astral does just the opposite. All of their PFDs (women's specific or not) are first built to fit women and then sized for men. This novel approach may seem strange at first but it makes perfect sense. Women tend to have more complex and variable body shapes than men, so this approach leads to a design that fits both men and women beautifully. As a huge fan of Astral's fit, I was excited about the release of the Layla PFD. I was even more thrilled to find out that it's actually a redesign of the iconic Lotus Lola, one of the best fitting PFDs for curvy women.
The good:
Just picking it up, I immediately loved the Layla. The colorways are fantastic (feminine without being too girly), the thin foam inserts and princess seams give it a bulk free appearance, and the interior "boob cups" made me optimistic that it would fit beautifully. I also love that it's rescue belt compatible; it's always nice to see a piece of women's specific gear that's designed with a serious user in mind.
Putting it on, I was impressed with the fit. The foam is distributed over a wide area to provide plenty of buoyancy without feeling constricting in the chest area. The "boob cup" cut outs in the foam panel also worked as advertised. It easily fit a DD cup and would fit well even on much bustier women. I also noticed that the sides of the PFD fit slightly higher than normal, preventing any spilling out on the sides, a very common problem with unisex PFDs. The articulated princess seams made it easier to move in and helped the PFD to taper at the rib cage. Overall, I was very impressed with the fit.
The bad:
My only complaint with the Layla (and it's a small one) is that the close wrapping that the princess seams allow causes gapping in the front. While the top fit like a glove, even with the PFD adjusted to the smallest setting, I couldn't eliminate gapping along my ribcage. The PFD still fit snug enough that I didn't feel I was in danger of the PFD slipping over my head if I swam, but it was slightly annoying. Perhaps it would be fixed if they used a band of mesh trim around the bottom, like they do on many of their PFDs to help them to lay flat. Maybe next season?
The bottom line: If you're a curvy woman looking for an alternative to boob-crushing unisex PFDs the Layla is the answer. Most women with small to average busts will probably do just as well with any of Astral's PFDs. Overall the Layla is an exceptionally well designed reinvention of a classic.
Wanna try the Layla out? Stop by our Parkway Center Store or Join us as Lake Julian for Paddlesports Demo Day on May 1st.
https://diamondbrandoutdoors.com/wp-content/uploads/2016/04/astral_layla_eggplant_front.jpg
776
656
Diamond Brand Outdoors
/wp-content/uploads/2017/09/diamond-brand-outdoors.png
Diamond Brand Outdoors
2016-04-19 17:45:33
2017-06-28 15:12:12
Women's Specific Gear Shakedown: Astral PFD's