Safety on the water is one of the least exciting aspects of paddling, but it's also the most important. Water is a powerful force, it doesn't matter if you are on flat water, gentle rivers, or raging rapids, every paddler should respect it's might and take a few safety precautions to protect themselves and others. For some, safety precautions are as simple as tossing a lifejacket or PFD (Personal Flotation Device) into the boat with them, for others, advanced rescue gear and classes are in order. Today, we'll take a look at each style of paddling and what gear is essential to stay safe during your adventure.
Know Before You Go
This simple, but vital, advice always matters. Whether you are on a lake or charging down a class V rapid, always know what you are getting into, know how long you will be out, and be prepared for the most likely situations. Its always smart to consult maps or guide books to be sure not to miss your takeout and know how to get off the water if need be. If you're on a new section of river, make sure that you know details such as rapids or water levels. Even flat sections of rivers at high water levels can create large waves capable of easily capsizing canoes and kayaks. On whitewater, whether it's a class II or V+, always scout ahead and make sure that you know the safe line to take in the rapid and that flooding has not changed the river. The most dangerous situation to be on the lookout for is fallen trees that may have become trapped in a blind drop on a rapid.
Strength in Numbers
It is always smart to paddle with someone else, especially when any amount of whitewater is concerned. If your going out alone, always let someone know where you're going and roughly how long you'll be gone. We've all heard about the film 127 Hours, don't let the boating sequel be about you. You should also bring your cell phone with a full charge in case of emergency. Just remember to store it in a waterproof drybag or a cushioned waterproof crushproof case such as a Pelican Case.
Always Use Protective Gear
Concerning gear, your PFD, or lifejacket, is your most important piece. All boaters, regardless of skill level or type of water should always have a lifejacket. Not only could it save your life, but it could save you from hefty fines. Most lakes do not require PFD's to be worn, but do require one to be present in the boat with you, check the rules before you head out.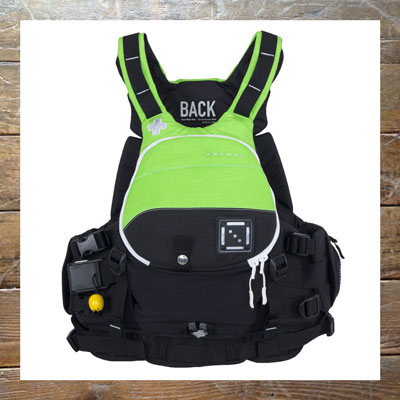 On rivers, one should always be worn. Those wishing to paddle advanced whitewater one day should contemplate a rescue vest such as the Astral Green Jacket, as this is an advanced PFD a Swift Water Rescue Course is essential to learn how to properly (and safely) use all of its features. A local organization that offers these certifications is Landmark Learning out of Sylva NC. For most whitewater paddlers not trained on Swift Water Rescue the more simple Astral YTV is a better option as it will still keep you safe even in class V whitewater and is significantly less bulky and cumbersome (and a bit friendlier on your wallet).
Those on calm rivers or flatwater might find the more comfortable Astral V-Eight to be a better option. It features lots of ventilation and the foam sits high on your back, so as not to create an uncomfortable barrier against your seat. If fishing is in your sights, go ahead and upgrade to the Astral Ronny Fisher for all the extra quick access tackle space and clever features perfect for anglers.
Regardless of how well you plan ahead something can always go wrong. That's why it is always smart to grab a small basic waterproof first aid kit such as the Adventure Medical Kits Ultralight/Watertight 0.7. And for when the weather turns, always bring both a rain jacket as well as a simple quick drying warm layer. Contrary to popular belief, the most common time out of the year that people experience hypothermia is during the summer when warm temperatures create a lapse of judgement concerning layering. Cotton clothing may feel nice in the heat, however when wet it takes a very long time to dry and zaps heat away from the body. A common saying in the outdoor industry is "Cotton Kills". Instead throw on some synthetic or wool layers that are quick drying and will continue to keep you safe when soaked.
Whitewater Essentials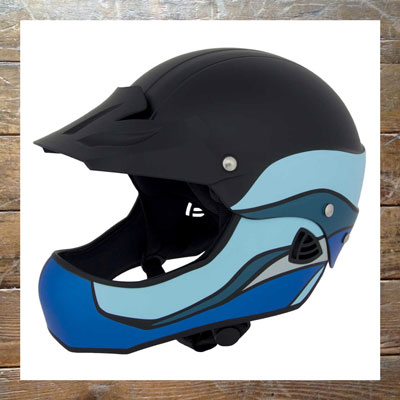 Whitewater paddling inherently holds far more risk that most other sports. Therefore specialized gear is often needed for any paddler adventuring into anything class II or above. In addition to specialized lifejackets mentioned above, paddlers should also always wear a helmet. Depending on your comfort level and what rapids you are paddling you may consider a full face such as the WRSI Moment Fullface to protect your jaw line and blows directly to the face (think of it as your dental plan) but most paddlers and fine with either a full cut helmet covering the back of their neck or a comfortable half cut helmet such as the Shred Ready Super Scrappy.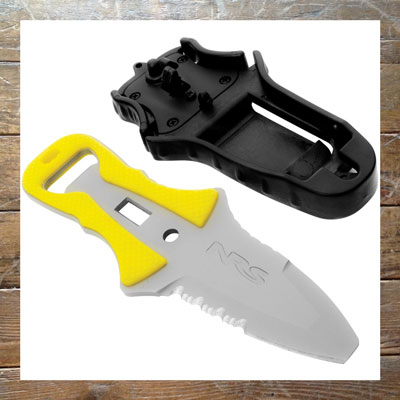 Every whitewater paddler should carry a rescue throw rope and be trained on how to properly throw and pack it. Rope bags such as the NRS Compact Rescue Throw Bag are a great choice. This rope should be handy for quick deployment to swimmers in rapids or for unpinning trapped boats. There is an old saying on the river that "if you are on the water, you have a rope. If you have a rope, you have a knife". A blunt tip rescue knife is an item that no paddler should be without, and again, proper training is essential. Choosing a blunt tip knife, designed specially for paddling is essential. Sometimes ropes get tangled on the water and emergencies arise that require you to quickly cut the rope out of the way. But rivers are hectic and the last thing you need is a sharp tip to accidentally puncture a raft, yourself or others. So purchase a blunt tip quick release rescue knife such as the NRS Co-Pilot Rescue Knife.
An often overlooked safety feature that all boaters but especially beginners should consider are kayak float bags such as theNRS Split Kayak Flotation Bag. These inflatable bags placed in the stern of your kayak displace water in your boat in the event that you are forced to eject from your kayak and the boat becomes filled with water. The bags will keep the boat high on the surface of the water and make rescue of the boat far easier as well as far safer for those doing the rescuing. Chasing a nearly submerged boat through a rapid is never a fun or safe ordeal.
There are many other whitewater specific safety features such as prussiks, flip lines, carabiners, pin kits, tow lines, and pulley systems to consider. However these are very skill dependent items and paddlers should first consult either industry professionals or seek proper training in courses such as ones offered by Landmark Learning, Nantahala Outdoor Center, or the U.S. National Whitewater Center.
Always remember that all paddling holds risks. The gear you need to paddle safely is dependent on your skill levels, training, and what type of paddling you are doing. If you ever have any doubt about how to stay safe on the water, consult an experienced paddler or stop by your local outfitter for guidance. If you're totally new to paddling, check out Facebook for groups and communities of paddlers in your area so you don't have to go alone. Anglers, flat water paddlers, and whitewater paddlers have tight knit communities that are helpful to be a part of. Follow these simple steps so that you can keep yourself out of danger and also not become a burden on others during a rescue.
Stay safe out there!
https://diamondbrandoutdoors.com/wp-content/uploads/2016/06/paddlingsafetyspencer.jpg
365
365
Diamond Brand Outdoors
/wp-content/uploads/2017/09/diamond-brand-outdoors.png
Diamond Brand Outdoors
2016-06-22 10:25:23
2017-06-28 15:10:07
Paddling Safety for All Levels of Boating