One of my favorite hikes near Asheville is along the Mountains to Sea Trail (MST) between the Visitor Center (Blue Ridge Parkway Mile Post 384) and the Folk Art Center (BRP MP 382). If you want a walk of five and a half miles, then make it an out and back. If you want a shorter walk, just park a car at each end. This walk is a perfect blend of urban and rural coexistence. The trail will most likely be in good shape and for that you can thank the volunteers of the Carolina Mountin Club (CMC), a hiking club that has been in existence for over 90 years.
This walk has lots of features: two tunnels, a bridge over the Swannannoa River, steps, an overpass over US 70, walk under a BRP viaduct, an open field with a picturesque barn, and maybe cows.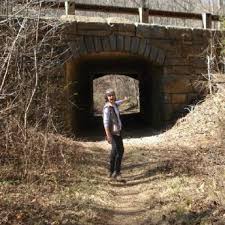 Start at the Folk Art Center by the kiosk outside the building. The trail blazes (white dotted trail markers) mark the MST. To head towards the Visitor Center, cross the driveway and head south on the MST. There is a stone marker designating this part of the MST as the Arch Nichols section. Arch was a lifelong CMC member and trail builder. After about two miles, you'll come to a trail junction and you'll follow the blue dot trail under the BRP to the Visitor Center. There is also a short loop of about one and a half miles at the Visitor Center that connects the blue trail to the MST.
For your next hike, start at the Folk Art Center and go north on the MST for two and a half miles to Lunch Rock and the Haw Creek Overlook.
Directions: From downtown Asheville, take Tunnel Road east about 5.4 miles to the Blue Ridge Parkway. Travel north on the Blue Ridge Parkway about a mile to the Folk Art Center at MP 382.
GPS Coordinates: N35.5927945, W82.4819549
Half Tank Getaways highlights some of our favorite places and is powered by our pals at Prestige Subaru. This entry was written by Gary Eblen, widely regarded as one of the most knowlegable hiking experts in Western North Carolina.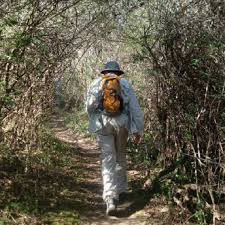 https://diamondbrandoutdoors.com/wp-content/uploads/2016/02/half_day_logo_1-1.jpg
600
600
Diamond Brand Outdoors
/wp-content/uploads/2017/09/diamond-brand-outdoors.png
Diamond Brand Outdoors
2016-02-26 16:21:29
2017-06-28 15:14:30
Half Tank Getaways: Mountains to Sea Trail