March equinox brings spring to the mountains on March 20. The month is named for Mars, the Roman god of war who was also regarded as a guardian of agriculture. His month Martius was the beginning of the season for both farming and warfare, and the festivals held in his honor during the month were mirrored by others in October, when the season for these came to a close. As winter comes to an end, March is seen by many as a month to celebrate rebirth, rejuvenations, and regrowth.
Here are some picks for getting outside during the first month of springtime. Visit the experts at Diamond Brand Outdoors to make sure you've got all the right gear and outdoor clothing before heading out!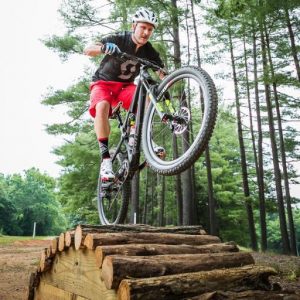 Kolo Bike Park
Opens for the season on March 4, Prices vary
Part of the Adventure Center of Asheville, this experience includes miles of purpose-built mountain bike trails and features — including wooden and dirt jumps, 180 degree wood berm, and wooden bridges — in a wooded, rolling terrain. It's adult and kid's pump track make it a sort of mountain bike sampler pack. There are multiple ways to ride Kolo's trails depending on your skill level whether you're just learning, taking it easy, or looking to push your edge a bit. Bring your own bike or rent one on site.
1 Resort Drive in Asheville
Spring Hiking 101
6pm-7pm on March 9, Free
With the arrival of spring, the ground thaws, flowers begin to blossom, and nature is jumps back to life. With trails that weave through multiple waterfalls, provide ample bird-watching opportunities, and lead to epic vistas, there's no better time to explore WNC's terrain than the temperate days of spring. Frugal Backpacker's experts will review essential items you should take with you while hiking in the Asheville area and share their favorite spring hikes.
52 Westgate Parkway in Asheville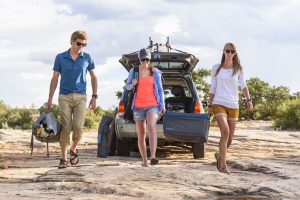 Campapalooza
10am-4pm on March 18, Free
Spring camping season gets an early start with a preview of 2017's best reviewed gear from international innovators like Kelty, Marmot, and Oboz, as well as locally based makers like ENO, Astral, and LiquidLogic. Free hourly workshops on topics from festival camping to choosing the right backpack for a thru hike to getting started to hiking are joined by giveaways and the presentation of grants to local environmental nonprofits. It's our way of celebrating Diamond Brand Outdoors' history as WNC's first and oldest outdoor store — and thanking our customers for their support!
1378 Hendersonville Road in Asheville
Get in Gear Fest
Noon-5pm on March 18, Free
26 WNC Gear Builders will be demoing their newest equipment on the banks of the French Broad River at Salvage Station. From a slingshot shooting range and 1:1 guided outdoor experiences to unique events to test outdoor skills and outdoor gear collaboration beers and ciders, it's no joke that this festival is called Get in Gear. Diamond Brand Outdoors' paddle experts will be hosting paddlesports demos on the river at 1:00, 2:15, and 3:30 in the afternoon.
468 Riverside Drive in Asheville
Mountains-to-Sea Trail Bird Walk
8am-10am on March 25, Free
Have you ever wanted to get to know the birds that you see and hear around you? Join international birdwatching guide Kevin Burke for an moderate hike on the Mountains-to-Sea Trail. You'll look for typical winter species, such as Carolina Chickadee, Hermit Thrush, Golden, and Ruby-crowned Kinglets, as well as early spring migrants like Northern Parula, Blue-headed Vireo, Hooded Warbler, Black-and-White Warbler, and Wood Thrush.
1378 Hendersonville Road in Asheville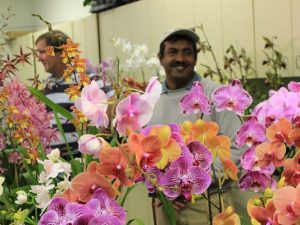 Asheville Orchid Festival
9am-5pm on March 25 & 26
$5 per person, Free ages 12 and under (standard parking fees apply)
The Western North Carolina Orchid Society hosts its 19th annual ode to the excitement and joy of cultivating orchids inside The North Carolina Arboretum's Education Center. World-class orchid growers and breeders, along with regional orchid societies, will exhibit hundreds of orchids presented in carefully crafted displays. Orchids will be for sale by vendors from Taiwan, Ecuador, and across the United States.
https://diamondbrandoutdoors.com/wp-content/uploads/2016/06/ss16_keen_waterfront_exp_never_0042.jpg
800
1200
Diamond Brand Outdoors
/wp-content/uploads/2017/09/diamond-brand-outdoors.png
Diamond Brand Outdoors
2017-02-28 14:47:18
2017-02-28 14:53:50
Ways to Explore the Outdoors in Asheville in March