For years, Liquid Logic has been the name to beat in the whitewater kayaking scene. Their feature innovative designs, and their industry leading "Bad Ass Outfitting" has long been recognized as the most comfortable ride out there. They also are eager to listen to the paddling community and cater to what paddlers really want, earning them a cult following. But what makes this stellar brand truly special is that all of their boats are made right here in WNC, just 7 miles south of our Parkway Center Location. Paddling locally made boats not only allows me to support our local community, but also gives me the advantage of paddling a boat that was crafted for our local waterways.
Diamond Brand Outdoors recently partnered with Liquid Logic to become the exclusive gear shop where you can check out their lineup. In addition to offering boats for purchase, we also have a full demo fleet, perfect for trying before you buy (or just nerding out about new boats).
I recently had the chance to take our shiny new demo fleet for a few test runs to learn the ins and outs of their performance and wanted to share my insights. For comparison, I'm 5'10" and 170lbs. Due to low rainfall, tests were conducted on Section 9 of the French Broad at approximately 1,000 cfs and on the Green River Narrows. To keep this friendly for beginning boaters, I've defined a few kayaking terms at the end of my reviews, so feel free to scroll down for help with any unfamiliar lingo.
Remix
The Remix series is one of Liquid Logic's most versatile offerings. A semi-plaining hull means it maintains high secondary stability and is fast + great at carving, while still being very forgiving. The wide stern gives this boat exceptional stability when getting surfed, passing over aggressive eddies, or when unintentionally squirted by large holes. This is my personal favorite boat for beginners, and I often use it to teach in. I have found that it excels at river running and big water. I've taken it on many high volume rivers including the Grand Canyon and Gauley, but it still feels very comfortable on steep creeks such as the Green River Narrows. Available in 3 different sizes as well as a kid's size for the little one, anyone can find a fit in this boat and can easily have it take them from the very beginning stages of paddling to the most advanced rivers.
Braaap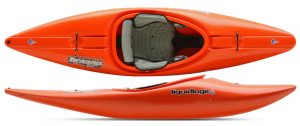 Probably the most talked about new boat design in recent years, the Braaap's design is based on speedy and maneuverable slalom boats. The main characterization of the Braaap is the full displacement hull with low volume stern that comes to a narrow point.  Often this boat is thought of as the reincarnation of the classic Dagger RPM from the 90's; it is a splat and squirt machine. While I am sure some design aspects were influenced by the RPM, this boat is not a copy of the famous "Radical Play Machine", nor was it meant to be. The Braaap is made to handle the most challenging of whitewater, while having the benefit of being able to stern squirt and splat under the right conditions. I found it to be an incredibly fun river runner, able to zip into edies, speed through the rapid, and maintain amazing secondary stability. I did however find the primary stability of the boat to be much lower than the rest of the lineup. This is primarily due to the boat's narrow width and full displacement hull.
One of the features I was most excited to test was its ability to squirt compared to the Dagger RPM and other classic low volume stern boats. Even though this boat is not designed with that specifically in mind, this ability has been the source of much hype and speculation. The boat was able to squirt and get vertical, but it needed a harder eddie line and a little bit more force to throw it around compared to an RPM.
If buyers are interested in a boat more suited for down river play, Liquid Logic also offers the Party Braaap. It's the same boat, but has the stern further squished down. Removing 2.5 gallons of volume from the back allows it to get vertical much more easily.
Mullett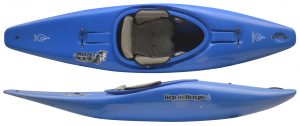 The Mullet is a stern squirter for the bigger paddlers. This river runner lives up to its name by being a party in the back and business up front. The design is very similar to the Braaap, but with more play in mind. The Mullet offers a displacement hull and a couple of extra inches in length, sure to be appreciated by bigger paddlers. During testing, I felt like the mullet had better primary stability than the Braaap while still maintaining plenty of secondary stability. I was able to get it vertical more easily than the Braaap, but still struggled a little in my weight range compared to other boats. For small to medium paddlers looking to play on all the rivers features, I would recommend the Party Braaap for easier squirting and splatting.
Jefe Grande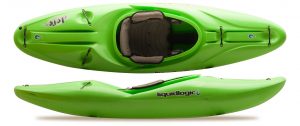 The classic Jefe is back by popular demand. This is Liquid Logic's full on creeking machine.  With large volume, high rocker, and a displacement hull, the Jefe is made to be confidence inspiring for beginning paddlers and is also a good choice for intermediate and advanced boaters pushing their limits. The large rocker allows it to boof over any obstacle, and the large volume lets it plow through everything else, while staying on the surface of the water. The wide width of the boat keeps good primary stability, while the displacement hull keeps you stable and confident when on edge and provides very high secondary stability.
While the Jefe won't be the speediest of boats and lacks the agility to easily carve and zip into eddies, this is a fantastic boat for paddlers who are looking to be confident and safe on any of their local creek runs and not allow anything to stand in their way.  Available in two different sizes, The Grande for medium to large paddlers or those looking to have the max amount of volume to keep them on the surface, or the chico for older kids or smaller paddlers.
Stomper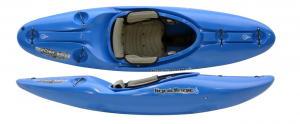 The Stomper is a perfect hybrid of the Jefe and Remix series of boats. With the Remix's semi-plaining hull and the Jefe's large volume, the Stomper is a fast creek boat designed for quickly dialing in your favorite steep creeks with speed and agility. The high rocker allows the boat to boof over any hole and maintain its speed when running up onto rocks during an assisted boof.  The hull provides both good primary and secondary stability, and combines the speed and carving associated with the Remix series with the easy boofing that the Jefe's high volume allows.
This excellent option provides beginners with a boat that's forgiving to paddle and makes it easy to practice moves. Intermediate and advanced paddlers will appreciate the speed and carving ability gains over a traditional creeker. This boat is a great option for those looking to progress to creeking and who want to be able to boof everything, while the Remix is a more solid option for river running and big water. The Stomper is available in two sizes to accommodate larger paddlers and those looking to pack in expedition gear.
Wanna test these boats for yourself? They're all available for demo at our Parkway Center location (1378 Hendersonville Road, Asheville, NC, 28803). Demos allow you to take one of our boats out for 24 hours on the river of your choice and are $25 per boat. If you decide to purchase a boat from us, we'll subtract the cost of up to four demos + you'll score 20% off of all accessories
-Jack Schroeder, Diamond Brand Outdoors Paddlesports Specialist
Kayaking Terminology
Boof : A fundamental skill in whitewater, boofing is the act of keeping the bow of your boat from being submerged under water by a hole, wave, pourover, and boil/pillow or keeping your boat horizontal off of a large drop.  Often assisted by running the boat up onto a rock like a ramp.
Edging: Leaning a boat over and maintaining control while making a sharp turn or while surfing.
Bracing: Using your paddle to either keep the boat from capsizing or to maintain the boat on its "edge" in a low brace where the paddlers body is nearly parallel with the water while the boat is leaned over to its tipping point.
Carving: Engaging a boat's edge to turn the boat by only tilting your hips one way or another.
Down River Play: An intermediate to advanced form of kayaking where the paddler executes tricks through whitewater rapids such as stern or bow squirts, splats onto rocks, flips over drops, and spins on slides and rocks. Often done using boats with a low amount of volume in the stern.
Stern Squirt: Getting a kayak vertical in the water with the bow up in the air and the stern submerged underwater. Often done intentionally and sometimes unintentionally, this is an old school move that has now seen a comeback in modern kayak design. The kayaker uses features on the river such as eddy lines or holes to suck the stern of the kayak down and maintain the boat in a vertical position.
Splat: A form of stern squirting.  A Splat is when the kayaker runs the boat up against a vertical or steep rock, driving the bow of the boat onto the rock and into the air; there a splat may be maintained using balance to keep the kayak vertical up again the rock. This usually requires a boat with a low volume stern.
Rocker: The amount of rise from the bottom of the boat to the tip of the bow.  More rocker aids with boofing over holes and rocks while less rocker improves speed and tracking.
Edge: The side of the boat where the hull meets the deck.  A sharp edge has a sharper angle while a soft edge is rounded.
Primary Vs. Secondary Stability
Kayaks have two types of stability, primary and secondary.  Primary stability is related to when the boat is sitting or being actively paddled in flat water and feels very stable.  It doesn't feel very tippy and does not require much balance while paddling.  Secondary stability is the boat's tendency to become more stable as the paddler leans over for a low brace or during a roll. As the boat leans to one side it will resist flipping completely over. 
Plaining Vs. Displacement Hull
Planing hulls are traditionally characterized by a nearly flat bottom with a sharp edge.  This gives the boat a large amount of speed, high primary stability but often lower secondary stability. More advanced paddlers find this to improve the boat's ability to carve, catch eddies, and surf, while beginner paddles will find the high primary stability comforting at first but more tippy in rapids where they have to lean and engage secondary stability.
Displacement hulls are recognizable by a very rounded hull with very little to no edge.  These boats have lower primary stability and feel more "wobbly" in flat water but have a very high secondary stability.  Beginner boaters will find these to be a little intimidating at first when entering the boat for the first time but when advancing their skills these boats are far more forgiving and assist with bracing, rolling, and landing after drops.
Semi-Planing hulls are a third form of hull design that is a mixture of both planing and displacement hulls. Characterized by a relatively flat bottom with slight edge and rounded sides.  These hulls share characteristics from both main designs in the fact that they hold good primary stability but maintain good secondary stability.  They are also found to still be fast and can carve but are more forgiving that a traditional planing hull.
https://diamondbrandoutdoors.com/wp-content/uploads/2017/01/P2071414_edited-1.jpg
3072
4608
Diamond Brand Outdoors
/wp-content/uploads/2017/09/diamond-brand-outdoors.png
Diamond Brand Outdoors
2017-01-24 09:10:48
2017-06-28 14:59:31
New At DBO: Liquid Logic Kayaks